Dagger is a basic weapon in game. Most characters start with a

Base Dagger. There are multiple variations of the dagger, which each have varying effects, drop chances, and coin costs.
Effects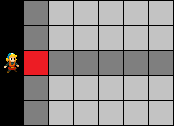 Deals damage to enemy that is adjacent to the character.
When thrown, deals piercing damage to every enemies in the thrown directions until it reached to a wall.
The dagger also has several special variants:
Check their individual pages for details.
Coin Costs
The table below lists the CoinCost for each variation of the dagger, depending on the zone.
| Zone | Base | Blood | Gold | Glass | Titanium | Obsidian | |
| --- | --- | --- | --- | --- | --- | --- | --- |
| 1 | 1 | 13 | 38 | 50 | 25 | 63 | |
| 2 | | 15 | 45 | 60 | 30 | 75 | |
| 3 | | 18 | 53 | 70 | 35 | 88 | |
| 4 | | 20 | 60 | 80 | 40 | 100 | |
| 5 | | 23 | 68 | 90 | 45 | 113 | |
| Glass Shop | | | | 25 | | | |
| Locked Shop | | 7 | 19 | 25 | 13 | 32 | |
| Dungeon Master | | 1 | 2 | 2 | 1 | 3 | |
| Pawn Broker | | -2 | -7 | -10 | -5 | -12 | |
| Blood Shop | | | | | | | |