Dagger of Phasing is a different kind of dagger which deals Phasing damage.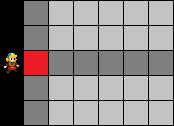 When attacking, deals 2 phasing damage to enemy that is adjacent to the character.
Can be Thrown. When thrown, it deals phasing damage and moves through walls.
Allows the character to attack inside walls, when in Phasing Mode.